Ceiling system range live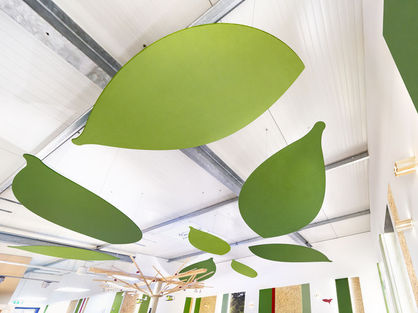 Acoustics will automatically become a focal topic on the tour through the Werktage. Primarily as you experience the whole diversity of Knauf Cleaneo ceiling systems at the different stations you visit. They fascinate thanks to their pure aesthetics and at the same time fulfil the highest functional requirements such as acoustics, fire resistance and longevity. You as a professional installer will benefit from their premium product quality as well as the ease of application, as will your clients. The best approach is to see the different members of the Cleaneo family for yourself, where you can experience the acoustic effectiveness live:
Knauf Cleaneo Classic – the jointless ceiling surface
Knauf Cleaneo GO – the surface ready perforated ceiling for fast installation
Knauf Cleaneo Module – the individual composition in Scandinavian design
Knauf Cleaneo Single – the flexible individual absorber for ceilings and walls
With this comprehensive and high-performance portfolio, you can optimise the acoustics in any room situation and create a pleasant and healthy climate at the same time.
Energy-efficient floor constructions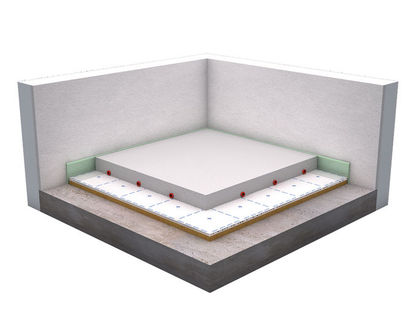 The flooring division of Knauf Gips focuses on intelligent solutions for the success of energy conservation.
The central keyword is "low-temperature readiness", a standard that allows low flow temperatures and thus the highest values of efficiency for heat pumps as a conceivable heating system of the future. The combination of underfloor heating systems from Knauf's long-standing cooperation partner Uponor and the high-performance Knauf floor levelling compounds and flowing screeds delivers high energy efficiency and pleasant living comfort with low installation heights, even in existing buildings. That this combination principle is not just useful in the cold season is evident thanks to the system solutions for room cooling via the floor.
True to the requirements of practice, the topics of sound insulation and fire resistance in modern floor constructions from Knauf are also covered. Exciting innovations will be on show. Also really outstanding is the "sack mountain" stacked at each Werktage site, which shows just how much easier and convenient handling is with silo-delivered filling and levelling compounds.
Heavy doors? Easy to install!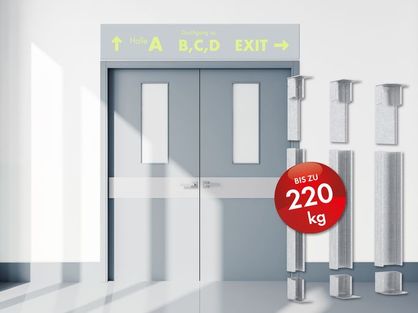 With the new heavy load profile BOB, we have improved upon the benefits of the previous version to make work even easier for practical people. That is why Knauf is showcasing all the benefits of the new heavy-duty profile BOB at the Werktage:
Profiles made of CO2 reduced GREENSTEEL
Easier to assemble with plug on brackets, screw assembly unnecessary
Fewer individual parts
Simple cladding and door frame screw fastening without drilling (2 mm profile)
Profile dimensions coordinated with the substructure
Application of insulation possible up to the front profile level
Standard lengths available from stock
Custom lengths possible
Less weight – easier to transport
Deflection head up to 30 mm possible
Simple routing of cables
Best of existing stock - Drywall solutions for refurbishment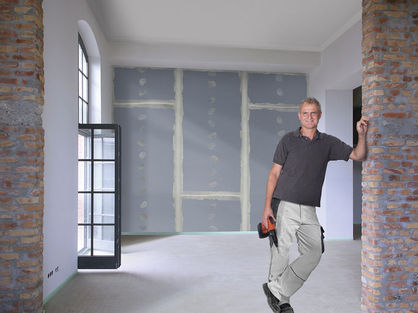 Nobody disputes the business opportunities over the coming years in the remodelling sector. It is good that drywall solutions can play to all their strengths here. Whether it is for remodelling purposes where sound insulation and fire resistance need to be upgraded, or where lightweight, slim walls are required for a vertical extension or for a challenge that can only be mastered by drywalling. As this requires a lot of know-how, we present you with precisely these solutions.
We show you drywalling details for daily construction site practice as well as cost-effective constructions that meet all requirements for tailor-made sound insulation and fire resistance, up to easy-to-install built-in parts such as drywall windows or sliding doors.
Knauf AQUAPANEL - Premium assurance for your customers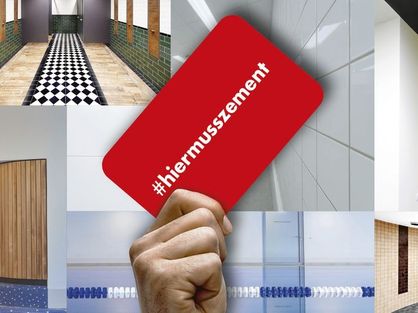 POWER DRYWALLERS reach for Knauf AQUAPANEL® when it gets wet for drywalling. The reliable constructions made of cement boards deliver what clients expect with lasting security. And the installation is the same as ever fast, easy and cost-effective acc. to DIN, as this clearly specifies: cementitious!
In chapter 6.2 "Condition of the Substrate" of the DIN 18534 -1, for water action classes W2-I and W3-I cementitious mineral wallboards are specified as the moisture insensitive substrates. Have a look at our booth area to see how a perfect sophisticated finish can be implemented.
Knauf Aquapanel system solutions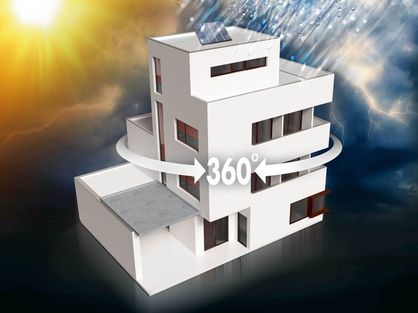 Whether exterior wall and façade, exterior ceiling, flat roof or balcony: Diverse building projects can be implemented with Knauf AQUAPANEL® systems for the building shell. It does not matter how your individual project is to look, we have just the solution for you. Cost-effective, sustainable, flexible and future-oriented. We offer the respective cementitious system for the building envelope with the AQUAPANEL® Cement Board types Outdoor, Skylite and Rooftop.
High energy efficiency, rapid continuation of the building phase
With the WARM-WAND systems, Knauf presents the complete portfolio of thermal insulation and shows special solutions and interesting design options on various exhibits. The innovative MineralAktiv plaster-paint system continues to set industry standards in the field of biocide-free façade design. Furthermore, it will also be demonstrated that when using a mineral plaster system, constructive measures against external fire exposure can be dispensed with in ETICS with EPS and a non-recessed plinth. Thanks to a 10 mm mineral basecoat layer and a mineral finish coat, the protection goal of not easily flammable ETICS with EPS insulation materials is guaranteed even without additional fire breaks in the plinth area. The corresponding validity extension of the certification is expected in 2023.
The second focal point is on three real innovations for rapid continuation of the building phase: The basecoat SM600 Sprint, the mineral finishing plaster Noblo 600 Sprint and the mineral filler Universal-Feinspachtel Sprint enable working with the following product on the next day.
Logistics for bulk goods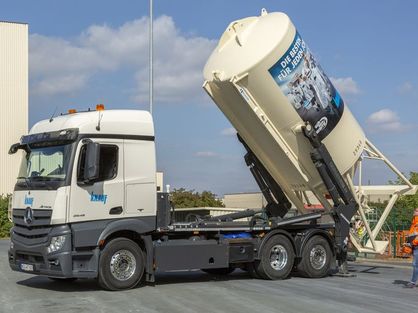 You will encounter this topic several times at various locations in the halls during the Werktage. Knauf has further optimised and expanded its portfolio and services in the logistics of bulk goods. Various teams of experts will be waiting to provide you with detailed in-formation on customer service in general, the ContainerNext app and the subject of silos (machine engineering, on-site installation requirements).
You will find out everything about the first choice in this sector - the service centre, where you can, for example, make your own silo shipping arrangements or report machine faults. If you don't know or haven't used the ContainerNext app just yet, after the live demonstration with the option for initiating test orders by yourself, you will see how easily the app is to use and how it works. Then nothing more stands in the way of using it.
What's new in silo technology and machine engineering? Here, operation, adjustment and cleaning are just as much the focus of the discussions with Knauf logistics experts as the new fill level sensor sys-tem or the interfaces to the ContainerNext App.
Added value highlights at the Fachunternehmer Club booth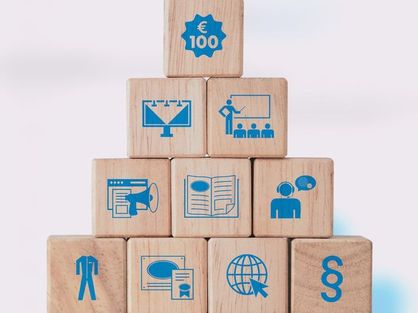 Need to take a breather during a Werktage marathon? Then pay us a visit at the Fachunternehmer Club booth. Here it's all about the added value of being a Club member. At the photo box for example: we will take a photo of you with your favourite added value. Or you can take part in the survey on the most popular added values and vote by mobile phone, which will automatically include you in the prize draw with attractive prizes. And if you are a good shot, the goal wall in the goal shooting contest is waiting for you. Three goals and you get a Knauf football.
Not a Club member yet? You will get all the information at the booth and the team will register your interest. The area manager will contact you after the Werktage. Just come by and meet us, we are looking forward to your visit.
Sustainability and healthy living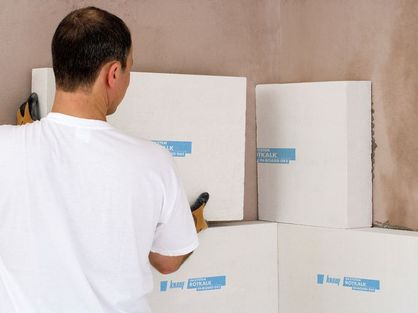 These are the central thematic focal points for plaster systems in interiors. If a building cannot be upgraded to reduce energy usage on the exterior for technical reasons or because it is a listed building, something must be done on the interior. All the more when the standard "low-temperature readiness" is to be achieved.
This is possible with the mineral interior insulation system Rotkalk in-System. Diffusion permeable and moisture regulating creates the system combined with the good energy-efficient properties of the insulation material, both solutions create the best conditions for a pleasant and comfortable indoor climate as well as an effective thermal protection. Also, a topic in this respect are the plaster solutions for the prevention of mould and the remodelling or timber framed buildings. Furthermore, the Knauf experts will also show you how to create real comfort with Knauf Raumklima products and with solutions for ceiling or wall heating and cooling in gypsum plaster walls.
New website for sustainability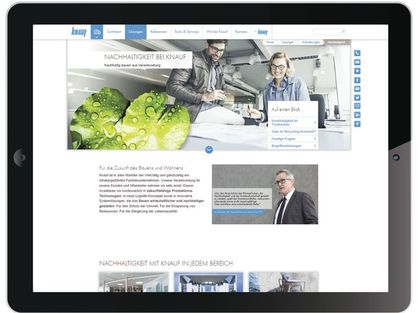 Knauf is showcasing the new website www.knauf.de/nachhaltigkeit at the Werktage with all the essential criteria and factors on this topic for the three sectors of drywalling, plaster and façade as well as flooring. Mineral systems with high level requirements for healthy living and energy efficiency, for example, characterise Knauf solutions in the plaster and façade systems area. In the case of screed solutions and levelling compounds for floors, the low-emission Knauf systems in combination with underfloor heating systems can make a valuable contribution to improving energy efficiency. A special focus is dedicated to the many advantages of drywalling and lightweight construction at the launch of the website.
Individual system solutions are described in detail here with the special focus on sustainable planning and building. Using a direct link to the Knauf Download Centre, all important sustainability documents such as Environmental Product Declarations (EPD) or VOC emission reports can be downloaded with just a few clicks.
Perfect surfaces
The finished jointed surfaces indicate whether an expert was at work. Get practical advice for perfect jointing for all surface finish qualities. See for yourself how connections, reveals and corners are implemented perfectly and learn about the best products for every application. The Knauf jointing specialists are available to answer your questions and demonstrate the correct technique live by hand or with a machine.
Innovative timber construction with Knauf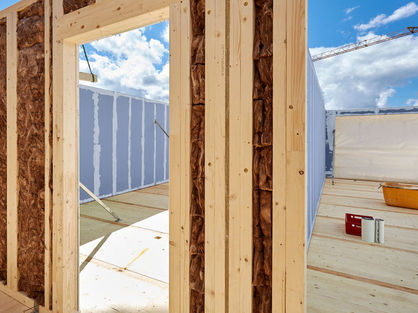 Be the first to learn about new developments in the Diamant X family at the Werktage! Wall systems from Knauf for modern timber construction deliver all the benefits of this sustainable and sophisticated construction method, from traditional timber construction and multi-storey residential buildings to cost-effective prefabrication. This is possible with premium individual components – for example, for building bracing, insulation and cladding – which perfectly supplement each other in the overall system or with products that simultaneously fulfil a diverse range of requirements.
The portfolio of Knauf solutions for structural engineering as well as for thermal insulation, sound insulation and fire resistance range for partition systems to comparatively simple exterior wall constructions for smaller residential buildings and extend right up to complex K260 cladding systems for exterior walls in class 4 multi-storey buildings.
Easy installation of sliding doors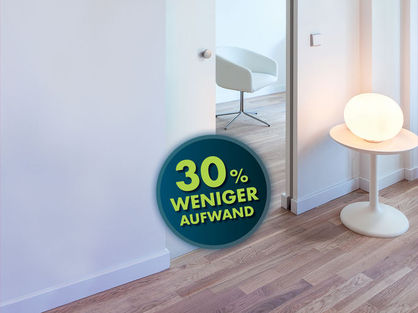 If time is a precious commodity on site with simultaneous demands for high quality. Then you should have a look at the new Pocket Kit Easy sliding door. It is easy and fast to install by just one person – we will show you this live. Furthermore, with 60 % less packaging volume, it also saves enormously on storage space and transport costs. The optimised technology can be subsequently adjusted, the running rail and accessories are well protected, there are no loose individual parts - all-round safety for smooth construction site operations.
Your benefits:
Premarked dimensions
Elimination of error sources
Quick availability from stock
Stoppers can be subsequently adjusted even in installed doors
Basis kit suitable for 80 % of all door openings
Special designs available
Lightweight steel construction – the profile makes the difference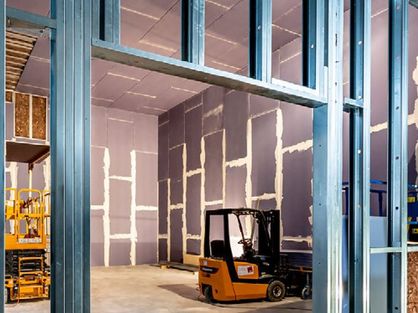 An exhibition hall requires a new partitioning arrangement with over-height walls? A workshop is to receive integrated office spaces which are sound insulated? A ceiling construction is characterized by extreme span widths? All of these aspects are no problem! When using the enhanced drywall applications, you can offer solutions that would not be possible without lightweight steel construction.
The profile makes the difference: With the material selection, dimensioning and cross-sections, the CO2-reduced GREENSTEEL lightweight steel profiles achieve significantly better structural values than known dry construction profiles. Accordingly, projects with demanding structural engineering requirements can be implemented with stud constructions made of load-bearing steel profiles. Room-in-room solutions, load-bearing ceilings, over-height walls or vertical extensions can thus be built more quickly, efficiently and easily than would be possible with solid constructions. Ask us about the simple construction process, from the practical requirements sheet to the delivery of the profiles - with assembly plans if desired. Discover how you too can benefit from Knauf lightweight steel construction!